Motorola Mobile Business Radio Microphones & Accessories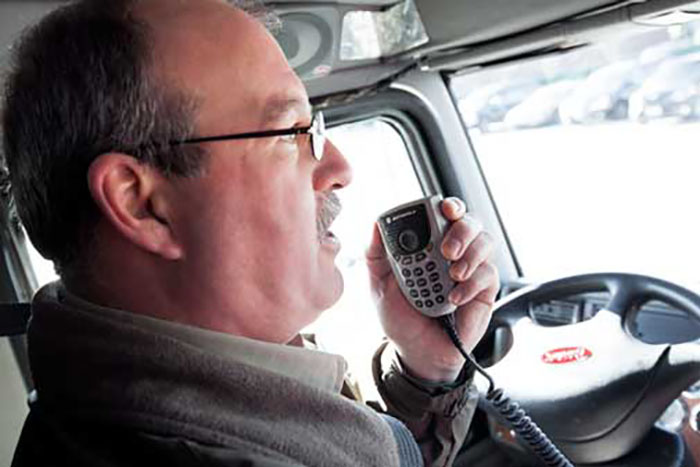 Microphones
Say Goodbye To Distracting Noise With Intelligent Audio
Do road noise, rush-hour traffic, heavy equipment, diesel engines and other loud sounds compete with your communication? The Intelligent Audio feature makes adjusting your radio volume to handle external noise a thing of the past.
Intelligent Audio listens to sounds in the background and automatically raises or lowers your radio volume so you can always hear clearly. If you're driving an empty bus that quickly fills with chattering children – you will still be able to hear important communication without taking your hands off the wheel to adjust the radio volume.
Find the right microphone for the way you work – whether you're delivering packages around town or transporting children to school.
Choose from four different styles:

Standard Compact Microphones
Standard Compact Microphones fit comfortably in your hand for quick, convenient communications.
Keypad Microphones
Keypad microphones let you easily navigate menus on your radio, dial numbers and more.
Heavy-Duty Microphones
Heavy-Duty Microphone for users who want more durability, also ideal for those who need a larger microphone that is easier to handle when wearing gloves.
Telephone-Style Handset
Ideal for users wanting to conduct private conversations. Ergonomically-designed, easy to hold. Includes cup and hardware.
Vehicle Solutions
Keep Your Eyes On The Road And Your Hands On The Wheel
Communicate safely with these essential vehicle solutions, wherever the work takes you – from the school bus to the short-haul delivery truck.
Clip the visor microphone to your vehicle's sun visor, so you don't have to hold a microphone. Combine it with one of our remote push-to-talk options, pushbutton mounted on the steering wheel or footswitch mounted on the floor, to provide a complete hands free communication solution.
Visor Microphone And Push-To-Talk Switches

Improve convenience and safety with the Visor Microphone and its compatible hands-free transmission options. Small microphone mounts to vehicle's visor for convenient hands-free radio operation. Use with choice of external push-to-talk switch.
Emergency Foot Switch
Lets user notify the base station quickly and discreetly of trouble. Sends signal to station and activates microphone.
External Push-To-Talk (PTT)
Activate the PTT or emergency footswitch without having to use the mobile microphone. A simple pushbutton PTT can be held in the hand or mounted in your vehicle for easy access, while the emergency footswitch lets you discreetly activate emergency hands-free when a critical situation arises.
Downloads
Motorola Mobile Radio Accessory Brochures
Motorola MOTOTRBO Accessory Catalog
Motorola Professional Series Portable & Mobile Radio Accessory Catalog
Motorola CM Series Accessory Fact Sheet