Motorola Commercial Radio Chargers and Reconditioners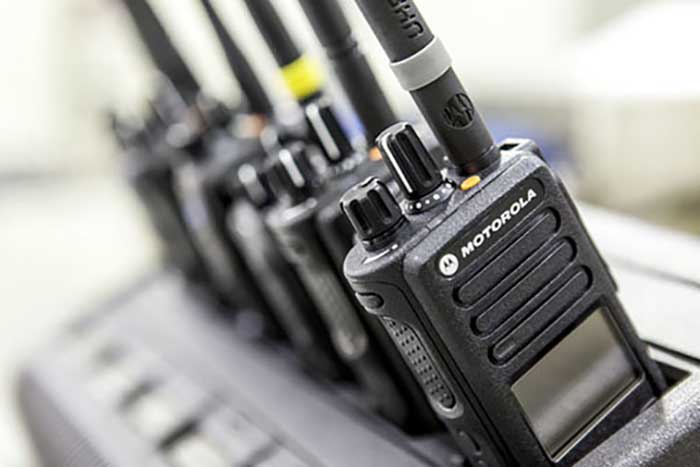 Chargers And Reconditioners

Charger Solutions
Choose from a variety of solutions including single-unit, multi-unit, travel and in-vehicle chargers and be confident your radio is charged and ready to go the moment you need it.
Single Unit Chargers
Rapid-rate chargers will charge batteries within 3 hours. 10 hour battery chargers can be used when overnight charging is available.
Multi-Unit Chargers
Up to 6 radios or batteries alone can be charged within 3 hours.
Vehicular & Travel Chargers
A great traveling companion that ensures constant communication while on the road. Its small compact design allows the radio to be used while rapid charging in the charger base. Unit includes a voltage regulated vehicular charger adapter, custom charger base, mounting bracket and coil cord.
Always a great traveling companion for road warriors, travel chargers can help ensure constant communication while on the road.
IMPRES™ Battery Charging And Reconditioning Solution
How Do IMPRES Batteries And Chargers Save Money?
They reduce the number of spare batteries you buy and increase the time before you need replacements. Only IMPRES batteries can be charged 150 additional times versus a standard battery – a 43% increase in charge cycles. If you charge radios two to three times a week, you'll get more than an extra year out of every IMPRES battery.
IMPRES™ Chargers

Get rid of the guesswork and get more from every battery. Get the most out of every battery and eliminate the surprise of "low battery alerts". IMPRES chargers tell you exactly how much capacity is in an IMPRES battery before you attach it to your radio and exactly when an IMPRES battery has reached the end of service life.
Enjoy 43% longer battery life from IMPRES over non-IMPRES batteries – without spending maintenance or record keeping time and effort. With IMPRES Battery Fleet Management Software, you can check the status of 25 or 25,000 batteries at a glance, from one computer.
IMPRES Multi-Unit Chargers With Displays
Provide powerful, "real time" analyzing information for IMPRES batteries, including current charge status, battery mAh, and voltage. Readout displays battery kit number, serial number and chemistry and the time remaining to complete the charge for NiCd and NiMH batteries.
IMPRES Individual Charger Display Module
This module is compatible with the standard IMPRES Multi-Unit Chargers WPLN4187. Up to 6 modules can be used per charger, one for each charging pocket. Includes detailed installation instructions.
IMPRES Battery Management Tools
With the unique IMPRES Battery Reader and IMPRES Battery Fleet Management systems, efficiently manage your batteries with real-time data not available with other manufacturers' batteries. Motorola's easy-to-use software applications show you if there is enough capacity for a full shift, alert you to low capacity batteries, prevent downtime and eliminate throwing batteries out prematurely.
IMPRES Battery Fleet Management Software
The software application remotely downloads key IMPRES battery data through existing IMPRES chargers for more effective management of the IMPRES battery and charger fleet. These reports provide key battery and charger data such as when IMPRES batteries are nearing end of life, identifying lost batteries and ensuring IMPRES chargers are appropriately distributed and use is maximized.
IMPRES Battery Fleet Management Charger Interface Unit – CIU
Attaches to an IMPRES multi-unit or single-unit charger to enable the data transfer to IMPRES Battery Fleet Management. A CIU is required for IMPRES chargers that report data to IMPRES Battery Fleet Management.
IMPRES Compatible Vehicular Charger
Has full IMPRES charger to battery communication capability. This ensures continuity of IMPRES battery charge data logging in a vehicular environment. This IMPRES compatible vehicular charger will not recondition IMPRES batteries while in the vehicle, but will provide an indication when reconditioning is required.
Downloads
Motorola IMPRES Energy System
IMPRES Battery Smart Energy Systems Catalog
IMPRES Battery Smart Energy Brochure
IMPRES Battery Fleet Management Brochure
IMPRES Battery Fleet Management Application Brief
IMPRES Battery Reader Specification Sheet
IMPRES Battery Charging LED Explantions
Motorola Portable Radio Accessory Brochures
Motorola Professional Series Portable & Mobile Radio Accessory Catalog
Motorola MOTOTRBO Accessory Catalog
Mototrbo Commercial Tier Accessory Catalog
Motorola SL Series Accessory Fact Sheet