Hospitality and Retail

Make Room for a Better Way to Communicate
Success in the hospitality world relies on the fundamentals – attention to detail, operating costs exceptional customer service and rapid response to guest requests. Yet today's competitive environment requires your hotel or resort to be even more efficient, productive and cost-effective to keep up and keep ahead.
Whether it's a special request for housekeeping or a special event for hotel security, your guests expect a flawless level of service and a high standard of professionalism whenever they stay at your property. How do you meet their expectations and manage staff dispersed throughout a large resort or hotel?
The Challenge
Big chain or boutique, catering to the business traveler or vacationing tourist, you compete in a highly concentrated industry, with many options on where clientele will spend their leisure and business dollars.
Differentiating your property through exceptional service is one of the most important ways you can retain customers and build loyalty. How do you give guests the experience they expect? Keep competitive while you keep operations running smoothly? And improve customer satisfaction while you reduce operational costs?
The Solution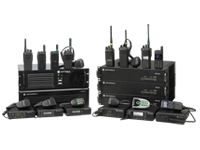 Versatile and powerful, MOTOTRBO ™ is the ideal solution. Using digital technology, it combines the best of two-way radio functionality with expanded capabilities to meet your communication needs.
MOTOTRBO integrates voice and data seamlessly, offers enhanced features that are easy to use, and delivers operations-critical advantages like enhanced work order ticket management, integrated Bluetooth® and Intelligent Audio. Pick the right device for your needs from a range of different models including the ultra-thin, ultra-light SL Series. MOTOTRBO can remaster your workplace and the way people collaborate to help you achieve even greater efficiency.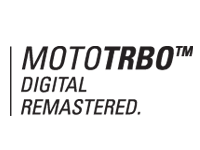 Make Every Customer Interaction First Class
Whether your staff is welcoming a group at the front desk or maintaining greens on the back nine, you can keep everyone easily and seamlessly connected with MOTOTRBO™ digital two-way radios and accessories. If a guest calls about a broken air conditioner or the pool manager requests clean towels, you can create a work order ticket or send text message instructions instantly. If catering asks for banquet assistance or security signals there is an emergency, you can locate the closest employee to respond immediately.
View our range of MOTOTRBO Two-Way Radios for the Hospitality and Retail Industry
MOTOTRBO Applications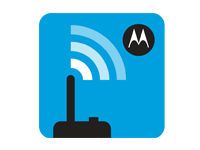 MOTOTRBO applications allow you to enhance efficiency and accountability, and improve your responsiveness to guest requests. Work order ticketing applications allow you to interface your MOTOTRBO system to your existing ticketing system – whether that's HotSOS, SeQent or any of the other leading hospitality guest management systems. Your staff is empowered to create tickets without returning to their desks, and can track staff responses on the move. Job ticketing apps also allow you to seamlessly integrate the retail shop floor with the back warehouse or storeroom.
Voice Dispatch
Giving you centralized control of your workforce, these applications offer customizable user interfaces to allow your dispatcher to coordinate your staff efficiently and effectively. They also enhance business connectivity by allowing telephony interconnections and multi-system patching.
Work Order Management
These applications enhance efficiency and accountability in the workplace using text-based issue management software. They can be integrated with your existing work-order management solution or can be operated as an independent system.
Learn more about MOTOTRBO Applications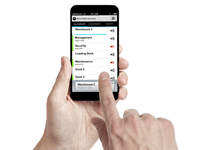 WAVE Workgroup Communications
Smartphone Application for Broadband Push-To-Talk (PTT) Capability
Communication amongst and between groups of people is a critical part of the day-to-day operations of any organization. For some organizations, mission-critical communications are inherent to the organization's mission. This is true of organizations ranging from the military to workers on an oil rig where efficient communication can be the difference between success and failure – and between life and death.
Unfortunately, effective seamless communication is not easily solved when different people with different communications devices on different networks, in different roles, need to be connected.
The WAVE Work Group Communications solution is a software platform and suite of applications that remove the technical barriers to secure instant communication across any IP network. WAVE's resiliency has been tested in some of the world's most difficult environments including battlefields, mines and the aftermath of natural disasters.
The following paper describes how WAVE creates the infrastructure required for software-based mission-critical communications. The paper provides an overview of the basic components and technologies that make up WAVE's core platform and the suite of end-user applications.
Learn more about WAVE Workgroup Communications
Digital Radios vs Cell Phones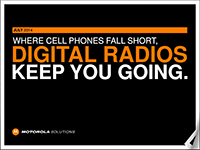 Where Cell Phones Fall Short, Digital Radios Keep You Going.
Cell phones are not suitable for your business-critical work environment. They are unreliable, higher in cost, and do not give you the safety features you need to protect your workforce.
Digital radios represent the best investment.
MOTOTRBO™ digital radios offer you a wide portfolio of radio solutions to meet your needs.
VDC Research Reveals which Technology is the Trusted Choice for Critical Mobile Communications and Savings
More than 800 professionals rank their mobile investments. Download to read how digital radios can overcome common cell phone challenges, such as:
Significantly higher total cost of ownership
18-20 percent failure rate
Poor audio quality and coverage
View Digital Radios Vs. Cell Phones Presentation
Download VDC Research White Paper
The Power of Your Radio Unleashed
MOTOTRBO radios are already best in class, but to help you work at your best, you need enhancements targeted to your specific workplace. Motorola has developed a line of accessories with unique features designed to optimize the performance of your radio in your work environment, unleashing the full power of the industry's most advanced digital radio platform.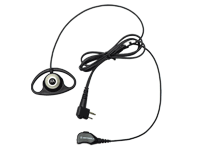 Earpieces
Transmit and receive discreetly with a variety of earpieces that feature a streamlined design and rugged cables that withstand tough conditions. With inline push-to-talk and microphones, they're easy to use on the go. Our flexible array of surveillance kits includes two-wire kits (one wire for receiving, one wire for transmitting) and more discreet three-wire kits (separate wires for transmitting, receiving and push-to-talk).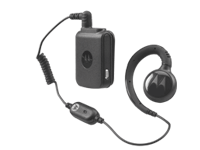 Bluetooth® Wireless for Portable and Mobile Radios
Unleash the power of your MOTOTRBO radio without wires getting in the way. Motorola's extensive suite of Bluetooth accessories free you to take the radio off your belt, leave your truck or step away from your desk (up to 30 feet away) and stay connected. Choose from covert earpieces, heavy duty wireless headsets and Operations Critical Wireless solutions that let you move without constraints around the workplace.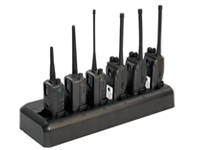 Batteries and Chargers
MOTOTRBO batteries are developed, tested and certified for optimal performance with your MOTOTRBO radios and they outperform other brands of batteries. Reduce the number of spare batteries you buy with IMPRES™ batteries. IMPRES batteries can be charged 150 additional times versus a standard battery – a 43% increase in charge cycles. Choose from single-unit, multi-unit, travel and in-vehicle chargers and be confident your radio is ready when you need it. Get the most out of every battery and eliminate the surprise of "low battery alerts" with IMPRES chargers.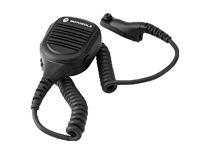 Remote Speaker Microphones
Communicate clearly in loud workplaces. Remote speaker microphones (RSM) have exclusive audio features for windy outdoor environments (windporting) and noisy environments (noise-canceling). IMPRES audio ensures your voice is heard clearer and louder regardless of how you speak into the accessory. The INC RSM suppresses extreme noise (high decibel equipment, heavy machinery) so you can be heard above all.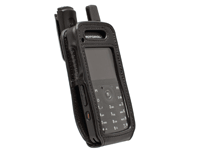 Carry Solutions
Carrying cases are available in sizes designed to fit your radio and battery and permit audio to be heard clearly. Our carry accessories keep your hands free, so you can concentrate on the task at hand. Choose from a wide range of nylon cases, leather cases, straps, holsters and clips, all designed to keep your radio protected, yet still easy to access.
Downloads
Application Briefs/Fact Sheets
Brochures and Spec Sheets
MOTOTRBO Overview
MOTOTRBO Accessories
MOTOTRBO Radio Consoles
Presentations
Radios vs Cell Phones
Videos
White Papers
Contact us for more information on how MOTOTRBO can help upgrade service and downsize costs for your hotel and resort managers.