Point To Point

Cambium Networks provides world-class wireless broadband and microwave solutions for service providers and network operators around the world. Our innovative technologies provide reliable, secure, cost-effective connectivity that is easy to deploy and built to last. Point-To-Point (PTP) Backhaul solutions provide proven reliability and performance, even in the most demanding environments.
PTP backhaul links

offer a wide range of PTP solutions to address an array of radio frequencies, applications, environments, infrastructures, and budgets. Our solutions are built to last with a combined total of more than 3 billion field hours in operation.
Cambium Networks' Point-to-Point (PTP) radio solutions provide award-winning network performance in licensed, unlicensed, and defined-use frequency bands. These include specific FIPS 140-2 solutions for the U.S. Federal market. Based on breakthrough Orthogonal Frequency Division Multiplexing (OFDM) technology, Cambium Networks' PTP solutions deliver exceptional near-Line-of-Sight (nLOS) and Non-Line-of-Sight (NLOS) coverage in locations where foliage, tall buildings, or other obstructions limit wireless broadband access.
Our PTP solutions are ruggedized for 99.999% reliability to deliver exceptional performance at the most extreme temperatures and under the most difficult weather conditions. Our PTP networks deliver the speeds to support today's in-demand bandwidth-intensive solutions, including high-speed residential and business access, streaming video and VoIP.
What Makes Cambium Networks PTP Solutions Different:

High performance – to perform reliably in virtually any path conditions, including Non-Line-of-Sight and long-range Line-of-Sight, over water and desert terrain, and even in severe weather conditions.
Multiple-Input Multiple-Output (MIMO) – the only backhaul products with MIMO technology.
Dynamic Spectrum OptimizationTM (DSO) – resists interference and signal fading.
Adaptive Modulation – to provide the maximum throughput with highest link quality.
High Spectral Efficiency – to provide high throughput with minimal spectrum usage.
PTP LINKPlanner tool – to provide a graphical representation of the link path along with configuration details such as link configuration description, antenna height and maximum power and a performance summary such as link loss, data rates, and link reliability.
Investment Protection – PTP 810 supports TDM today and enables IP to provide smooth migration without replacing equipment.
Rapid deployment in hours – enabling network operators to rapidly extend broadband connectivity when and where it is needed.

Cambium Networks PTP 810
Cambium Networks carrier-grade PTP 810 licensed microwave solutions provide reliable, high-capacity connectivity and backhaul for both your Ethernet and TDM applications. The systems operate in radio frequencies between 6 and 38 GHz at scalable Ethernet data rates up to 700 Mbps full duplex. The modular design offers pluggable modem units that support T1/E1, STM-1, and Ethernet on a single platform, giving you great flexibility to configure the best system for your needs at the optimal cost. The systems are available in both Split Mount and All-Indoor (PTP 810i) architectures. PTP 810i All-Indoor solutions provide an optimal solution when tower access is difficult whether due to weather or other inaccessibility. Available in FCC and ICC 6 and 11 GHz authorized bands, these licensed solutions can obtain up to 477 Mbps with XPIC enabled.
The demand to support more multimedia communications and mobility and deliver higher throughputs for bandwidth intensive applications is growing exponentially. Now operators can leverage their legacy investment while taking advantage of the cost efficiencies and performance benefits of packet-based Ethernet technology. Service providers, public safety and government agencies, heavy industry such as utilities and transportation, and other enterprises will find PTP 810 an optimal solution for making this migration

Cambium Networks PTP 800 Series
Today's converged multi-service networks need high capacity, availability, reliability, and security with low latency and true affordability. Our Cambium Networks PTP 800 Licensed Ethernet portfolio has been designed to ensure that today's evolving networks can benefit from the highest level of IP-optimized microwave solutions available in the market. For public safety agencies, government entities, enterprises, and service providers who demand licensed exclusivity, high-bandwidth, scalability, and affordability, the PTP 800 Series can meet all of your network and bandwidth requirements.
Because our portfolio supports both Split Mount and All-Indoor architectures, network operators can choose a solution that best accommodates their unique business needs. Whether providing connectivity to long distance locations, backhauling video, or providing last-mile access, the PTP 800 and PTP 800i All-Indoor solutions have the capabilities and features to meet today's IP requirements and tomorrow's Next Generation Network needs.
Operating in the 6 to 38 GHz RF bands* at up to 368 Mbps throughput (full duplex) and with user-configured channel bandwidths from 7 to 56 MHz, the Cambium Networks PTP 800 Series offers operators a highly reliable licensed band solution. With upgradeable capacity from 10 Mbps to full capacity via a software key, the systems offer exceptional cost efficiency and scalability. The PTP 800i All-Indoor system delivers up to 236 Mbps (full duplex) over configurable channel bandwidths from 10 to 40 MHz. In addition, Cambium offers comprehensive FCC licensing coordination services through our partnership with Comsearch.

Cambium Networks PTP 650s
Network operators have experienced massive growth in data, voice, and video traffic over the past few years. This growth has imposed new requirements for high bandwidth and secure, reliable connectivity in areas not previously covered. Heterogeneous networks of small cells are increasingly being deployed in traffic "hotspot" areas to address these increasing capacity demands. In addition, data "not spots" are being addressed in suburban and rural areas with lower capacity small cell deployments.
PTP 650 PERFORMANCE GUARANTEE
Cambium Networks disrupts the performance-reliability continuum with the Cambium Point-to-Point (PTP) 650S Small Cell backhaul solution. With up to 450 Mbps aggregate throughput, small form factor, and support for 3G and 4G/LTE network timing, PTP650S links let you reliably and securely handle today's needs with scalability to meet future requirements.

Cambium Networks PTP 650L
The PTP 650L is a sub-6 GHz, non-line-of-sight (NLOS) PTP solution with a small form factor and up to 100 Mbps capacity. It offers high spectral efficiency and reliability in congested environments. The solution's flexibility, reliability and security are suited for enterprise access and video surveillance applications for the service provider, public safety, government, utilities, and oil and gas markets.
Leveraging signature features of the PTP 650 platform, the PTP 650L includes Dynamic Spectrum Optimization™ (DSO) which provides in-band, online spectrum analysis and self-optimization as well as industrial-grade security features and carrier-grade enclosures. An available software upgrade extends capacity to 300 Mbps in a 30 MHz channel for future wireless network growth

Cambium Networks PTP 650NIDU
Service providers and enterprises have invested significant time and resources into dedicated T1/E1 transmission systems. Based on TDM (Time Division Multiplexing), these circuits have been very popular and effective for voice and data long distance services, dedicated private lines and last mile access, but they are expensive.
There is a demand for a more cost effective solution that can reduce the dependency on leased lines and ease the transition to all-IP networks. Wireless broadband has proven to be an economical and reliable option. The PTP 650 Network IDU (NIDU) is a hardware device which enables the passing of T1/E1 TDM circuits over PTP 650 fixed wireless broadband connections. Using the NIDU, information from existing TDM circuits is delivered reliably, meeting the precise latency and jitter requirements needed for T1/E1 traffic. The NIDU combined with the PTP 650 delivers TDM traffic today while easing the migration to all-IP networks in the future whether for enterprise applications or Macro-cell backhaul for 2G/3G traffic

Cambium Networks PTP 650
Service providers, government public safety agencies, and critical infrastructure operators such as utilities and energy companies need to meet the massive growth in demand for data, voice and video traffic. Providing high throughput in limited spectrum is the challenge.
PTP 650 PERFORMANCE GUARANTEE
Cambium Networks leads the industry in spectral efficiency and performance with the Point-to-Point (PTP) 650 wireless backhaul. With up to 450 Mbps aggregate throughput in a 45 MHz channel, and operating from 4.9 to 6.05 GHz, PTP 650 systems let you reliably and securely handle today's needs with scalability to meet future requirements.

Cambium Networks PTP 600
With carrier-grade reliability, PTP 600 links have class-leading sensitivity and power output that enable links to go farther while sustaining high throughput regardless of conditions. With data rates up to 300 Mbps and reaching distances up to 124 miles, this Series of high-performance and secure wireless bridges makes cost-effective connectivity and backhaul a reality for a wide range of enterprises, service providers, utilities, transportation agencies, and public safety organizations.

Cambium Networks PTP 500
Choose the PTP 500 Series to deliver high-speed, robust wireless backhaul. Connect buildings in a campus setting. Extend video surveillance beyond the wired infrastructure. Support bandwidth-intensive applications such as Voice-over-IP, telemedicine, IP gaming, and multimedia. The PTP 500 bridges can deliver up to 99.999% availability in virtually any environment, including Non-Line-of-Sight (NLoS), long-distance Line-of-Sight (LoS), over water or open terrain, even through extreme weather conditions.
With a 25 Mbps base system and outdoor units in both Connectorized and Integrated models, our PTP 500 Series 5.4 and 5.8 GHz bands offer easy license key upgrades with data rates up to 105 Mbps throughput.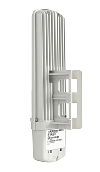 Cambium Networks PTP 450
PTP 450 is Cambium Networks' first point-to-point backhaul solution offered in 3.65 GHz lightly licensed and 3.5 GHz licensed bands, in addition to 5 GHz. PTP 450 is a PTP solution based on the point-to-multipoint platform, incorporating key features such as low predictable latency and GPS synchronization.
PTP 450 is optimized for reach, reliability and throughput in a compact form factor, making it ideal for enterprise access services such as data, VoIP, video conferencing, video surveillance and backup connection service.
PTP 450 features:
Frequency availability: 3.5 GHz, 3.65 GHz, and 5470 - 5875 MHz
Capacity: up to 125 Mbps
Latency: 3 - 5 ms
Flexible channel width: 5, 10 and 20 MHz
Modulation: 256 QAM
Smart Antenna Technology: OFDM 2x2 MIMO A + B

Cambium Networks PTP 200 Series
Designed to securely transport data, voice, and video in both near Line-of-Sight (nLOS) and Line-of-Sight (LOS) environments, the PTP 200 Series offers affordable, accelerated throughput at a time when operators are challenged with increasing bandwidth capacities to support additional applications, subscribers, and users. With solutions including a dual-band radio with outstanding small packet performance, a 5 GHz solution with exceptional long distance capabilities, and a 4.9 GHz system for public safety, the PTP 200 Series provides many options for budget-restricted operators while meeting their unique requirements for longer range, more bandwidth, and band-specific utilization. Their ruggedness, field durability, and MTBF are recognized throughout the industry and contribute to their exceptional performance. Their low cost of ownership makes a PTP 200 solution affordable for even the most restricted budgets.
Applications:
Leased Line Replacement
Building to Building and Remote Locations
Voice and Video Backhaul
Video Surveillance

Cambium Networks PTP 100 Series
This series of bridges make use of Cambium's proprietary Point-to-Multipoint Wireless Broadband platform modulation scheme to deliver broadband connectivity across distances of up to 35 miles (56 kilometers). The PTP 100 Series is available in a broad range of frequencies (2.4, 5.1, 5.2, 5.4, and 5.8 GHz) and is uniquely suited for delivering consistent throughput in Line-of-Sight (LoS) configurations.
The PTP 100 Series of wireless Ethernet bridges offer enterprises and telecom operators a reliable and affordable entry point for providing wireless broadband connectivity to the locations that need it most. A simple license key upgrade system enables operators to add more throughput as their network requires it from as low as 2 Mbps in some regions of the world up to 14 Mbps. These radios are ideal for Line-of-Sight conditions. Not only are they highly reliable, weather resistant, compact, and rugged in design, the PTP 100 radios produce consistent data rates in the face of interference. Ideal applications for these bridges are rural or remote locations, campus applications, temporary and emergency systems, video surveillance, telemedicine, e-learning, and banking.
These solutions support both over-the-air DES (Data Encryption Standard) encryption and are also available with AES (Advanced Encryption Standard) capabilities, which provide 128-bit encryption, to ensure secure data delivery and exceptional reliability.