Motorola MW810 Mobile Workstation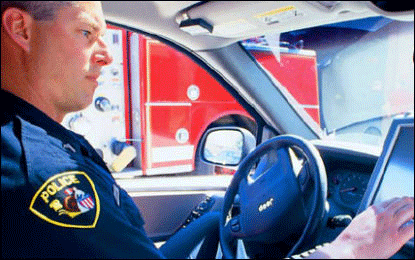 Fully rugged mobile computer for mission-critical vehicles.
Optimized for mobility. Optimized for wireless.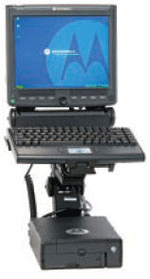 In the harsh environments of mission-critical vehicles, access to vital information when and where you need it most is crucial.
The Motorola MW810 rugged fixed-mount computer provides reliable, mobile wireless connectivity and computing power for mission-critical applications.
The high-performance computing platform is optimized to deliver seamless mobility at highway speeds. Motorola's three-piece design allows flexible installation options, including choice and location of CPU, display, and backlit keyboards.
Fully-Rugged.
Durable and reliable so you have access to vital information even in harsh conditions. Operate with confidence in mobile environments and under stressful conditions.
Fixed-Mount System for Vehicles.
Provides mobile connectivity and computing power for vehicle users. Internal GPS and Dead Reckoning GPS module options work with your applications to provide accurate vehicle location so you can manage your fleet and deploy resources more effectively.
Versatile Three-Piece Design.
Allows for flexibility and ease of installation in space-limited vehicles. Individual components can be purchased separately.
High Performance Display.
Transflective, high contrast display performs extremely well even in difficult lighting conditions. Display design enables shortcuts to the most important user functions.
Optimized for Wireless.
Expanded wireless networking capabilities, including new internal cellular modem options, for better access to information
The most advanced mobile data computer on the road
The Motorola MW810 offers a range of integrated radios and GPS options so the vehicle user can stay connected via one or more wireless networks. Optional expansion boards provide a wide range of I/O ports to support external radios, dual displays, and peripheral devices. The backlit keyboard and display options offer outstanding performance even in the most difficult lighting conditions.
Fully-Rugged
Fixed-Mount System for Vehicles
Versatile Three-Piece Design
Intel® Core™2 Duo Processor Options
Expanded I/O Capabilities
Supports Multiple Internal Radios
Dual Display Option
High Brightness, High-Contrast Display Option
NEW: Intel® Core™2 Duo Processor Options
More power for multi-tasking. "Intel Core 2 Duo processors have two processing cores – or computing "brains" – that can handle multiple tasks in less time while consuming less power." Intel Corporation, Press Release, August 28, 2006
Expanded I/O Capabilities
Choice of I/O configurations allows you to outfit all vehicle types with the same CPU platform – simplifies equipment maintenance and life cycle management.
Supports Multiple Internal Radios
Use multiple wireless modems and your choice of Mobile VPN software for secure, seamless multinetwork roaming so you are never out of touch.
Exceptional Display Technology.
MW810 displays feature a resistive, tempered glass touchscreen interface. Our high brightness display option features 1200 NIT brightness with 1:400 contrast ratio and outstanding viewing angles, so both driver and passenger can easily view on-screen information.
Touch of a Button Sends a Message
Eight soft key buttons, backlit for visibility and situated across the bottom of the display, can be assigned to different functions under mobile application software control. A one-touch emergency key located on the top of the display can be easily reached to send a distress signal
Eliminating the need for keyboard or radio use in a crisis situation.
Easily Modify Display Settings
On Screen Display software and a multi-function knob allow users to easily control basic settings such as volume, brightness, and contrast.